This ClassicCars.com Marketplace featured listing is a 2008 Dodge Viper R/T-10 for sale in Grand Junction, Colorado. Built to celebrate the 50thanniversary of the famed performance parts manufacturer, this car, number one of what was supposed to be 50 built was originally sold for $250,000 at the 2009 Barrett-Jackson Scottsdale Auction. The featured charity benefitting Victory Junction, a year-round camping environment for children, ages 6 to 16, with chronic medical conditions or serious illnesses. It was founded by Kyle and Pattie Petty in honor of their son Adam.
At the time it was sold, the 2008 Dodge Viper was signed by Nate Shelton, Chairman of Hurst; Roy Sjoberg, the "father of the Viper"; Linda 'Miss Hurst' Vaughn; and Austin Petty, NASCAR driver and grandson of Richard Petty.
On this limited edition 2008 Dodge Viper, according to the seller, "Goodies include a Corsa exhaust, special polished wheels, Motion Club Sport adjustable coil-overs and Eibach springs. It naturally features a Hurst pistol grip shifter and the Hurst logo has been embroidered into the leather seats. The Hurst edition was limited and only the first 2, one coupe and one convertible, were painted flat gold with black stripes."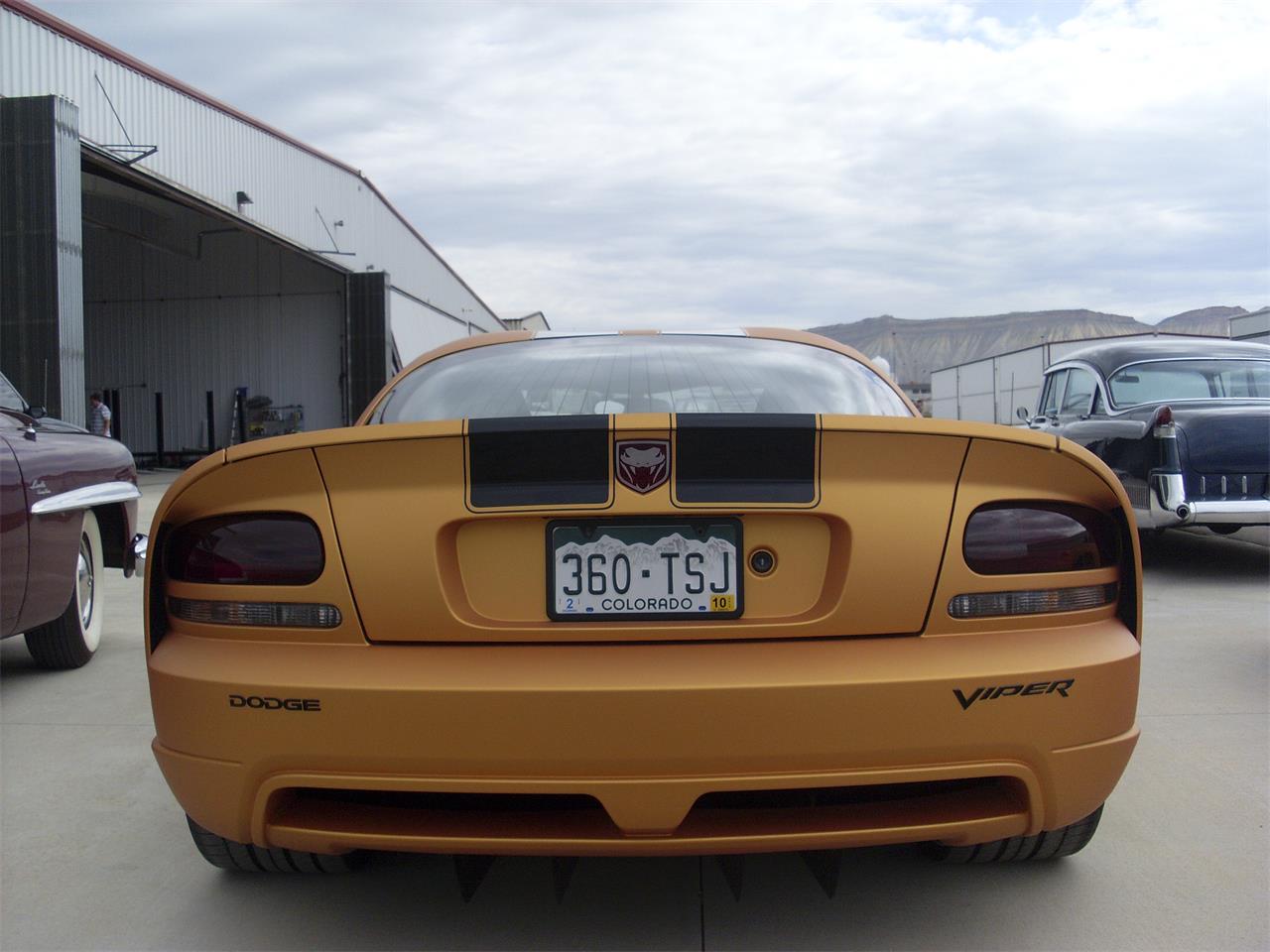 George Hurst began the company as a small garage in 1958. After investment from customer-turned-partner Lawrence Greenwald, Hurst began making bumpers for VW buses, then went into the now legendary piston-driven gearshift business. Hurst's research department was also the inventor of the hydraulic rescue tool – the Jaws of Life.
Hurst was acquired by Sunbeam, the appliance company, in 1970. Sunbeam sold Hurst to Mr. Gasket in 1987. Then in 2007 B&M Racing and Performance Parts, the leading competitor to Hurst, bought the brand in 2007. A subsidiary, Hurst Performance Vehicles was formed to build and sell several different types of Hurst equipped and branded special-interest cars.
According to Bill Pemberton (of Woodhouse Chrysler, Dodge, Jeep, Ram, SRT, Viper), while plans were to release a total of 50 2008 Dodge Viper cars in the limited edition, only "4 were ever done, as financial considerations at Hurst meant their production was ceasing. There is a 5th one built, though it was just a late collaboration with Hurst and Doc Watson — though it did not have all of the suspension and other mods agreed upon with Woodhouse Viper and Hurst Performance."
On this #1, the "rims were done by HRE and finished in a black chrome similar to what is being done on the Challenger SRT8s, Jeep SRT8s, Charger SRT8s, and the 300 SRT8. The suspension, exhaust and some other mods were all done by Woodhouse SRT/Viper and sent to Hurst for finishing. "
The 2008 Dodge Viper has an asking price of $280,000. Big money, but a rare car with an interesting story.
To view the listing on ClassicCars.com, click here.